On Premise Email Marketing At Your Location
Now you can own and run your own dedicated, private, secure email marketing server and use it exclusively at your location. Run the software at your business office, data center, co-location provider, or organization. You have complete control over the mail server and configuration. It's your choice as to how to configure and run your NextMail email software platform.

The NextMail solution is ideal for email marketers who want complete control over their sending environment for any number of reasons: privacy, security, control, bullet-proof configuration, sending speeds, mail throttling, IP address warmup, and many additional and advanced configurations for discriminating mailers who need specific functionality only found in the best software programs. The software features an enterprise feature set, with features that rival all major email sending platforms and providers.
Please note that this software is not a simple desktop computer software program made for simply blasting out email. This software is a full-featured, comprehensive enterprise email marketing software program that is normally installed at your data center, or co-located at a shared data center.

This software is for you to buy, license, own and use at your own location, your own cloud, your own data center, however you like. This is an on-premise software solution.
NextMail email marketing software includes the following, and much more:
Manage email mailing lists effortlessly for the most effective email marketing
Create robust, powerful email marketing campaigns that get response
Enjoy best-in-class feature set of email marketing features and functions
Segment and send email to just a portion of your list
Import your subscribers easily
Create up to 50 additional custom fields unique to your data
Merge email sending between lists
Send test campaigns before sending to your entire list
Enjoy the included responsive html email template editor
View and download detailed reports of bounces, opens, clicks, unsubscribes, more
Create sub-user accounts and customize access with permission-level settings
Suppress unwanted domains by campaign, by list or from the entire database.
Suppress manually or import a bulk list.
Export your list or your entire contact database into an Excel or CSV file for backup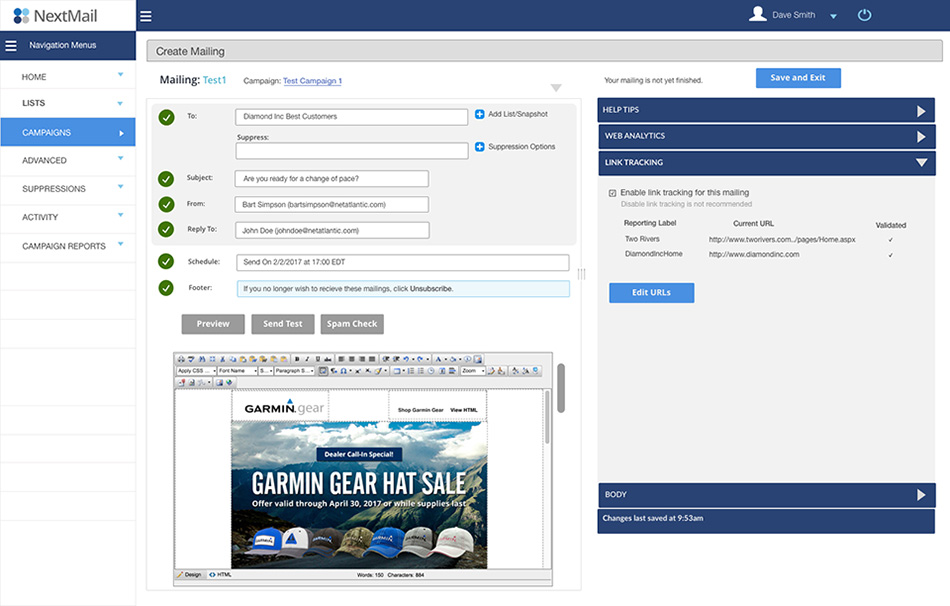 The NextMail solution is perfect for HIPAA compliance concerns, privacy laws issues, high security environments, various territorial law compliance, and other specific, dedicated server and deployment needs.
NextMail is an enterprise-level solution.
For a more competitively priced solution, see our hosted offerings at http://www.netatlantic.com
Request Info Form
Net Atlantic NextMail
10 Federal Street, Suite 26
Salem Massachusetts 01970 USA
Phone: 978-219-1900
Email: sales@nextmail.email